Basic Configuration
The second step of the installation is performed through WebAdmin, the web based administrative interface of Sophos UTM. Prior to configuring basic system settings, you should have a plan how to integrate Sophos UTM into your network. You must decide which functions you want it to provide, for example, if you want to operate it in bridge mode or in standard (routing) mode, or how you want it to control the data packets flowing between its interfaces. However, you can always reconfigure Sophos UTM at a later time. So if you have not yet planned how to integrate Sophos UTM into your network, you can begin with the basic configuration right away.
Start your browser and open WebAdmin.

Browse to the URLUniform Resource Locator of Sophos UTM (i.e., the IP address of eth0). In order to stay consistent with our configuration example above, this would be https://192.168.2.100:4444 (note the HTTPSHypertext Transfer Protocol Secure protocol and port number 4444).

Deviating from the configuration example, each Sophos UTM ships with the following default settings:

Interfaces:

Internal network interface (eth0)

IP address:

192.168.0.1

Network mask:

255.255.255.0

Default gateway:

none

To access WebAdmin of any Sophos UTM, enter the following URL instead:

https://192.168.0.1:4444

To provide authentication and encrypted communication, Sophos UTM comes with a self-signed security certificate. This certificate is offered to the web browser when an HTTPS-based connection to WebAdmin is established. If unable to check the certificate's validity, the browser will display a security warning. Once you have accepted the certificate, the initial login page is displayed.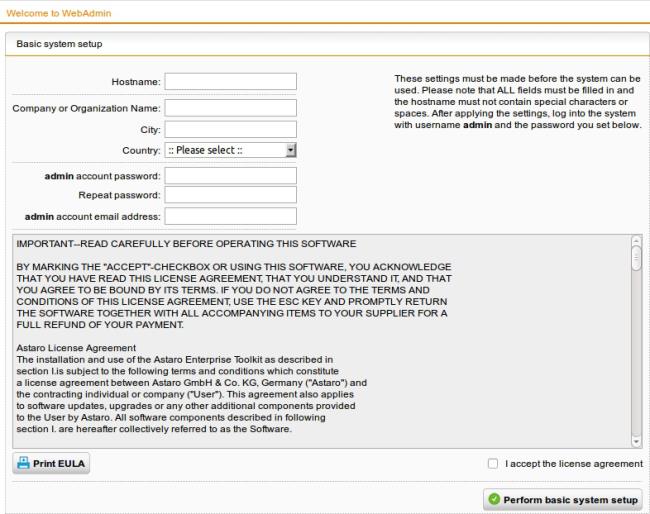 WebAdmin: Initial Login Page
Fill out the Basic System Setup form.

Enter accurate information of your company in the text boxes presented here. In addition, specify a password and valid email address for the administrator account.

If you run an Amazon Machine Image (AMI) of Sophos UTM, you will see an additional text field AWS Instance ID. Enter that ID to prove that you are the owner of that Amazon instance.

If you accept the license agreement, click the Perform Basic System Setup button to continue logging in. While performing the basic system setup, a number of certificates and certificate authorities are being created:

The login page appears. (With some browsers it may, however, happen that you are presented another security warning because the certificate has changed according to your entered values.)
WebAdmin: Regular Login Page
Note – If your license does not allow one of the following features, the concerning feature will not be displayed.
Make your basic firewall settings.

You can now select what types of services you want to allow on the Internet. Click Next to confirm your settings.

Make your advanced threat protection settings.

You can now make settings regarding intrusion prevention and command&control/botnet detection for several operation systems and databases. Click Next to confirm your settings.

Make your web protection settings.

You can now select whether the web traffic should be scanned for viruses and spyware. Additionally, you can select to block webpages that belong to certain categories. Click Next to confirm your settings.

Make your email protection settings.

You can now select the first checkbox to enable the POP3 proxy. You can also select the second checkbox to enable Sophos UTM as inbound SMTP relay: Enter the IP address of your internal mail server and add SMTP domains to route. Click Next to confirm your settings.

Make your wireless protection settings.

You can now select the checkbox to enable wireless protection. In the box, select or add the interfaces that are allowed to connect your wireless access points to your system. Click the Folder icon to add an interface or click the Plus icon to create a new interface. Enter the other wireless network parameters. Click Next to confirm your settings.

Make your advanced threat adaptive learning settings.

You can now select if you want to send anonymous data to the Sophos research team. This data is used to improve future versions and to improve and enlarge the network visibility and application control library.

Confirm your settings.

A summary of your settings is displayed. Click Finish to confirm them or Back to change them. However, you can also change them in WebAdmin later.

After clicking Finish your settings are saved and you are redirected to the Dashboard of WebAdmin, providing you with the most important system status information of the Sophos UTM unit.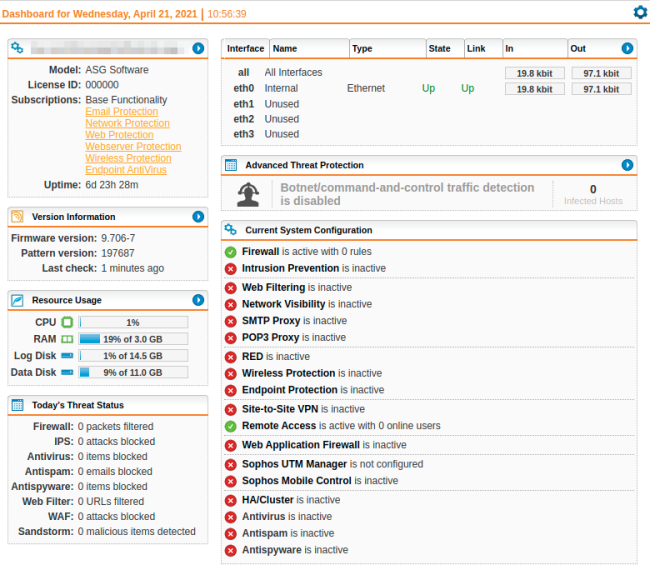 WebAdmin: Dashboard
If you encounter any problems while completing these steps, please contact the support department of your Sophos UTM supplier. For more information, visit the following websites: